Costings
Overview
The costings feature enables you to track the costs involved in the procurement, maintenance, and disposal of assets or inventory.
Before recording costs, first set up cost categories.
Recording Costs
From the Web App
From either the Tagged Assets, Inventory, Goods Dispatched, or WIP tables, find the record in question, then go to its Actions menu > Add Costings.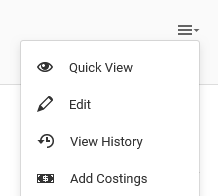 Alternatively, costings can be added to multiple records by using the table's bulk action menus found at the top of the table, for example, Add Costings.

On the new Costings page, fill out the form with the desired details.
On the form, under the Cost Category, choose a category that has been set up.

Under the Cost Types, choose the cost types associated with the chosen category, enter their description if needed, and then specify their costs.

Under the Image Upload section, you can upload images of receipts, or any other supporting document, in PNG or JPG formats.

From the Smartphone App
To record costs from the smartphone apps, log in then go to the Costings section and tap on the Cost Tracking option.

On the Costings page, select a service, then choose a category associated with it.

After that, you can either scan a barcode, tap an NFC tag, or search for the item that you need to associate the costings with.

Sections to record costing types will then be displayed.
In these sections, choose a costing type, enter a description if necessary, and then enter the cost amount.

More costing sections can be added by tapping the "plus" button.

Each section can also be removed by tapping on the "Remove Section" button.
Under the Image section, you can take pictures of receipts, etc.

Managing Recorded Costings
Viewing Costings
To view recorded costings, go to the Cost Categories page, then find the desired category.
Under its Action menu, go to View Costings.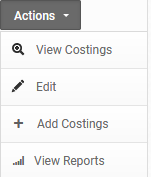 Exporting Costings
From the View Costings page, go to the Options menu at the top of the table, then choose one of the Export functions.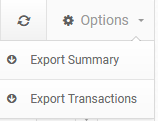 Editing Costings
From the View Costings page, go to the Actions menu of a record, then go to Edit Costings.