Exporting Files
Exporting data as CSV
Data can be exported to CSV files.
To do so, on the tables, go to Options.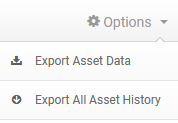 Exporting entire data
There are two possible exports.
One includes (e.g Export All Asset History) the entire history of the data, such as the names of those who took an action, the action that was taken, and the data that was submitted.
The other (e.g Export Asset Data) simply includes the current data at the current time.
Exporting manually chosen data
Another way to export data is by first selecting them on the tables, then clicking on Export Selected.

Exporting data programmatically
Data can also be exported as JSON, XML or CSV from a secure private URL. See Data Feed.
Exporting Images
Images can also be exported. To do so, go to Option > Export Images.