Inventory Adjustment Reports
Overview
Inventory Adjustment Reports shows the trends of all the inventory increments and decrements, across the entire inventory locations.
The increments or decrements can be for quantities, weights, or other numeric metrics that have been adjusted over time.
To view the reports, go to Reports > Inventory Reports, or from the respective table, go to Actions > View Reports.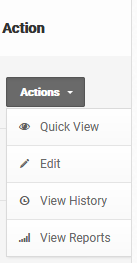 Examples


Reports can be exported by going to the options section.