Stock Level Reports
You can generate reports that include the current stock levels for either an inventory location or an inventory identifier.
To generate the reports, go to Reports > Inventory Reports.
From the navigation menu, go to the Stock Level Reports.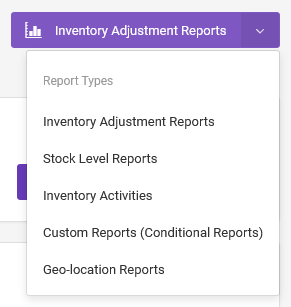 On the new page, fill out the form by selecting the inventories, or the inventory locations, or a combination of both.

Under the Stock Level Field, choose a numeric custom field, e.g quantity.
Under the Fields To Export choose the custom fields, you want to be included with the results.
Once you submit the form, the results will be displayed on a table under the Stock Level Results field.

From the Options menu, click on Export to download the results as CSV.