Associating Files
Creating the association
Uploaded files can be associated with assets or inventories.
To associate uploaded files, go to the Documents page. On the table, select the files, then click on Associate With Assets or Associate With Inventory.
Note – images uploaded when editing or setting up a new inventory or asset gets automatically associated.

On the page that follows, choose the assets or inventories for the association.

Making changes to the association
To make changes, go to the Actions > Edit.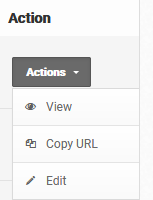 On the new page, add or remove the desired records.