Customizing the Data Capture settings
To customize the Data Capture settings, go to the Data Capture page.
Choosing the correct service
On the Data Capture page, ensure that you're looking at the custom fields for the correct service.

The custom fields will be shown on a spreadsheet like the one below.

Customizing the fields
On the Questions column, type in the custom question.
On the Mandatory Field column, by setting the column to "Yes", the Questions must be filled in.
On the Answer Type column, choose the type of field that should be used to capture the respective data.
The Options column is required based on some of the choices selected on the Answer Type column. It can also be used to set the default value for certain fields.
On the Show On Table column, when set to "Yes", the answers to the questions will be shown on the respective table,
The ID field is not editable; ignore it.
To add or remove rows, right-click the spreadsheet.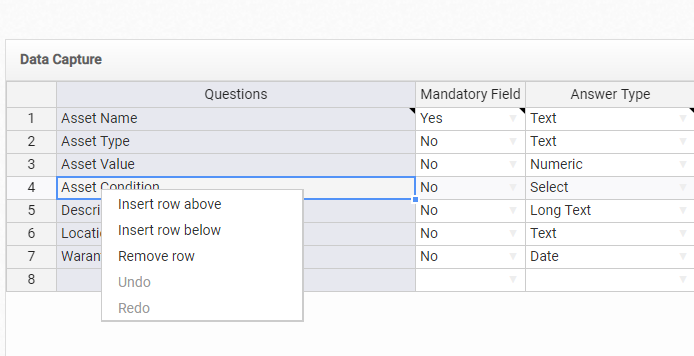 To re-arrange the order of rows, click on the row's number, then when the drag handle appears, drag the row to the desired position.
Note – depending on the service being edited, some rows cannot be removed.