New Activity Notification For Assets
Overview
This notification type can be used for sending email alerts whenever a new asset record has been added.
For example, email alerts can be sent whenever a new asset check-out has been made.
Setting up or modifying the notification
To set this notification up or to modify it, go to the Manage Assets table > Options > Notifications.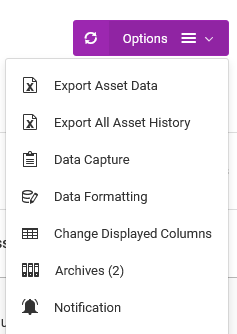 On the Notifications page, choose New Activity Event.
Choose which Service you want to receive notifications for.

Choose the type of alert required. If "Email", enter the email addresses.

Enabling or disabling the notification
Indicate if the notifications should be sent or not. This setting is what you would also use to turn the notifications on or off.